The ambition of Praava Health, entrepreneurship, and life: An interview with Sylvana Quader Sinha, Founder, MD, and CEO, Praava Health
Praava Health Founder, Managing Director, and CEO Sylvana Quader Sinha walks us through her childhood and early life in the US and how her upbringing at a cultural crossroads, exposure to Bangladesh and its culture early in life, shaped her outlook on life and the world, reflects on her journey from the world of law, politics and development work to entrepreneurship, talks about how a personal experience with the healthcare system in Dhaka led to her founding of Praava Health, Praava heath's journey from idea and a tiny team of a few people to a team of over 100 people, what went into building the initial operation of Praava, building the initial Praava team and raising money, Praava's membership scheme, how Praava has used a combination of personal network, word of mouth and efficient execution to grow its business, the state of Praava's business today, how Praava operates as an organization and how it has built a learning culture, and Praava's ambition going forward, shares her insights on how to raise money, deal with the challenges of being a founder, the infinite potential of human capacity to do good, the importance of having good people around you and why the meaning and joy of life lies in creating impact and connection.
What is your background? Please tell us about yourself and your journey from a lawyer and development practitioner to an entrepreneur.
I was born and brought up in the United States, mostly in Virginia, but my family is from Bangladesh and my roots are here in Bangladesh. I used to visit Bangladesh occasionally. My grandfather was here and all of my relatives were here.
As a young girl who grew up in America, on my visits to Bangladesh as a child, I was very affected and intrigued by the extreme poverty that existed in this country despite its wealth in resources. That's when I began to become interested in the development sector, which would eventually dictate many decisions in my later life.
After graduating high school in Virginia, I pursued a bachelor's degree in Philosophy and Economics from Wellesley College, in Massachusetts. After graduation from college, I worked as a strategy consultant at PricewaterhouseCoopers (PwC) for a while and then I went to graduate school – I went to law school at Columbia University and also pursued a master's in International Development from John F. Kennedy School of Government at Harvard University. That was a kind of a perfect intersection of my interest in foreign policy, development, and law. While in graduate school, I did summer internships at law firms in both New York and India.
For many years I worked in international law and international development, including at The World Bank and major international law firms, and in US foreign policy as an advisor to then-Senator Barack Obama.
I worked on Obama's campaign primarily because I wanted to learn from the incredible minds he had pulled together – including Susan Rice, Samantha Power, and Denis McDonough.
When it looked like he would win, I considered pursuing a role in his administration, but I had always believed that a big problem with US foreign policy was that policy setters hadn't spent enough time abroad. I decided I shouldn't be part of that problem, so I moved to Afghanistan with the World Bank at the end of 2008.
I spent four years in Afghanistan, with the World Bank and the US Institute of Peace, along with other UN agencies in the Middle East and South Asia. My work was the perfect confluence of my interest in law and development and US foreign policy.
After working very closely with the people in Washington jobs I thought I wanted, I found myself craving the accountability and pace of the private sector. I also wasn't feeling as directly connected to the impact of my work.
I went back to a "big law firm" in NYC, working on some fascinating international disputes, but I was still craving more.
I always had this yearning to create something of my own – to touch people's lives directly – but my career had taken me in a very different direction than I had expected.
I was feeling a little lost at that point. I started thinking seriously about the Bangladesh market, and what I might be able to do to create impactful change in the country. I knew there was a dire need for quality health care services.
A few years prior to that, in 2010, my mother was hospitalized at one of Bangladesh's top hospitals for a basic operation. We expected that the routine procedure would go smoothly, yet she suffered such dramatic complications that we nearly lost her. It was one of the top hospitals in Bangladesh. They diagnosed her with cancer which was later dismissed when we consulted doctors in Thailand.
It was really an eye-opening experience that brought me in direct contact with the healthcare system and how it was failing – for the first time. That's just one example. I would soon come to realize that many people in this country have a story to share about the negligence they have experienced from hospitals and the broader healthcare system.
My mother was lucky to be treated at one of the best hospitals in the country. Not everyone can afford such treatment or go abroad, for that matter. I spent a great deal of time thinking about the tremendous need to change the health sector in Bangladesh.
In 2014, I made a conscious decision that I wanted to be part of a needed change in the way healthcare was delivered in Bangladesh. The idea of Praava was still a seed, and I had no idea what it would blossom into. I went on a mission to understand the reality in the healthcare space in Dhaka. I began to listen to everyone who would talk to me about their experiences with the healthcare system in Bangladesh.
Since everyone has been a patient at some point in their life, everyone has a story and a perspective to share. I would listen to anyone who would talk to me. When I would ask people to share with me their experiences, usually they would start talking and floodgates would open up. There are in fact good doctors in Bangladesh, and not all the stories were bad. But there are some systematic issues that are failing the patients.
I had also met with doctors and others working in the healthcare industry – not just in Bangladesh but also in the region and a lot of time internationally in the US, in Asia, and in India. It is an incredibly exciting time to be working globally in healthcare – some of the richest countries in the world are failing to serve their citizens, and everyone is trying to understand these problems and offer solutions
Consistently, I heard Bangladeshi patients complain about a lack of trust in their healthcare system. In fact, anyone who can afford to travel abroad for healthcare does, often at substantial personal expense and sacrifice.
I thought this might be because there was only one internationally accredited lab in the country resulting in a high percentage of diagnostic errors. But in fact, the #1 reason patients are traveling abroad is an absence of trust – they feel the doctors in Bangladesh don't spend enough time answering their questions or listening to them.
In fact, a British Medical Journal study published in 2017 ranked Bangladesh at the bottom of 67 countries surveyed in terms of the amount of time doctors are spending with patients – the average primary care doctor in Bangladesh spends 48 seconds with each patient – compared to 2 minutes per patient in India, and 5-22 minutes per patient in more developed countries. That was very interesting. There is this huge trust gap in the system but it really starts with the relationship between patients and their medical service providers.
I decided there were 2 major problems that I wanted to fix –
1) I wanted to improve trust in the system, and help patients feel that they were being heard and taken seriously, and
2) I wanted to offer quality diagnostic testing so that people didn't have to double, triple and quadruple check their test results for accuracy, even sometimes traveling abroad in order to do so.
That was the inspiration for the core concept of Praava. At Praava, we take this relationship between patients and doctors very seriously. Our doctors spend a lot of time with the patients and there is a real relationship between these two parties. We actually guarantee 15-minute appointment slots for every patient.
Now you have your concept and you know what you wanted to do. What happened then? Could you please walk us through from that point of deciding on the concept to the launch of Praava?
I came with the concept in 2014 and I hired my first employee in February 2016, almost 18 months later.
In between, I conducted the research, I built a 10-year financial model, I raised funds from investors, and put together many other bits and pieces of the business.
Let's go back to your early days' story. In February 2016, you hired your first employee. Then what happened? What went into building Praava's initial operation?
Our medical director was my first employee in February 2016. The lab director and the IT director joined us in April 2016. We also have a senior medical director who I had met in January and who joined with us in April as well.
I built the team by being very honest about my values and vision, and it helped to attract like-minded people who shared my values and believed in our team's capacity to create positive change.
By the end of the summer, we had about 12 people on-board. In November 2016, we signed a lease for our first facility in Banani, and within a year, we launched our first facility in August 2017, with more than 100 employees present for the ribbon-cutting.
One of the hardest parts of setting up the initial operation facility was finding the right building. Because we needed a spacious premise with ground-floor access that is affordable. We had to invest a significant amount of time in finding the right space. I myself spent time in scoring places.
How did you manage the initial investment?
Our investors are all individual angel investors who have invested from abroad through our offshore entity.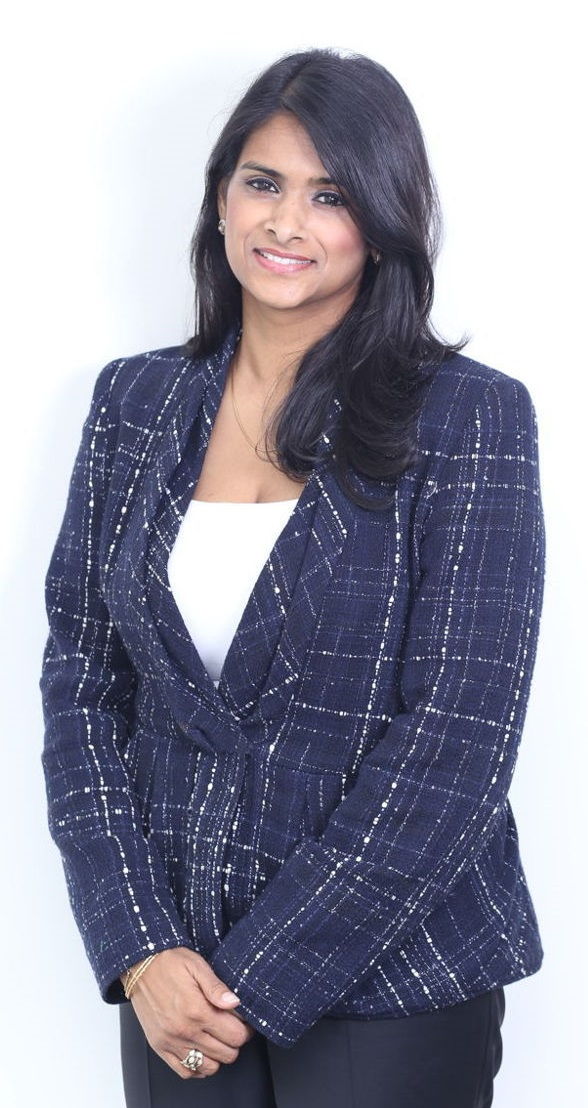 Sylvana Quader Sinha, Founder, MD & CEO, Praava Health | Photo by Praava
Could you please give us an overview of Praava? How does Praava work? What are the services you offer, how big is your operation in terms of the number of customers you serve currently and the number of subscribers to your membership plans if you want to, etc?
We opened our doors in August 2017, w. It was a soft launch period for the initial five months. We went into full-fledged operation in February 2018 – hard launch we call.
We have registered and served thousands of patients, and 60% of our visits are from repeat customers which mean our retention is quite high. We have gotten some really good traction. One of the challenges for us has been to find the right way to market our product. I think we are making some headway on that and going to launch a much more aggressive marketing strategy by the end of this summer.
So what does Praava do? Basically, Praava is defined by its tagline: family doctors and diagnostics. We have a group practice of family health professionals that include family doctors who have advanced training in family medicine.
In Bangladesh, people have a tendency to directly go to a specialist even when the situation doesn't demand so.
Our group of family health professionals also includes women's health specialists, pediatrics, dentistry, physiotherapy, nutritionists, psychological counseling, and health coaching. We have a particular focus on helping patients in managing chronic diseases.
On the backend, we have six labs that can do 250 unique tests. The lab has been set up according to international standards and we are proud to challenge anyone to find variation between our lab reports and any other internationally accredited lab. I get my blood work done here, my mother gets her blood-work done here, so I need it to maintain that standard. We have started the application process for international accreditation, which takes a couple of years to complete.
Also, I'm very proud of the fact that Praava Health has built Bangladesh's first PCR lab for molecular cancer diagnostics. Molecular cancer diagnostics, including liquid biopsy, can reduce cancer mortality based on early detection as well as develop a better understanding of the patient's disposition to various treatment options and disease management. This latest technology only recently became available even in the west.
Before we existed in Bangladesh, other facilities were sending patients' samples abroad for analysis. By doing these tests in Bangladesh, we minimize error rates that can be caused during transport of samples abroad, substantially lessening the cost to the patient, and reducing turnaround times for reports.
Rapid turnaround times are crucial when making decisions regarding targeted therapies for cancer patients. We have already conducted hundreds of molecular cancer diagnostic tests at Praava Health.
We also offer a full range of imaging services.
We have also introduced membership plans which are first of their kind in this market. We have annual membership plans ranging in price from BDT 4,500 to BDT 28,000.
We are marketing it directly to the consumers as well to the corporates for our corporate membership plans. We will gradually introduce more attractive individual customer and corporate plans.
In fact, the concept of our membership plan is actually a values-based health care concept. It's an idea that healthcare companies shouldn't make more money when we keep getting sick. But that's what happens. So what we are doing is that we are basically betting on the opposite. We don't more money if you get sick.
We are saying to our customers that by paying a flat rate, which is buying a Praava membership, you can come to Praava every single day of the year. But we believe that you won't have to because we are going to keep you healthy.
We have an assumption that you may come twelve times a year. For every member-patient, we predict how many times s/he is likely to visit us for check-ups and then try to lower the figure by providing her/him better health care because if you visit us less, which means if you get sick less, it is good for our business.
By this, we are trying to align our values with the ones of our patients. And this is how we operate from a values-based perspective at every level of our operation. Our decisions are made not to merely maximize our business, but to ensure an excellent experience for our patients.
How are you using technology creatively?
Praava has its own mobile app, which is part of the first-ever fully integrated hospital information system in the country. This means all of a patient's records are kept here by us and can be accessed anytime from anywhere. It means our lab is fully integrated with technology. As soon as a lab machine runs a test, the report is automatically stored in our central system in the name of the patient.
Once you are registered with Praava, you can connect your app with your Praava registration number and access your records online from anywhere. You can also make appointments and communicate with us using the app.
Traditionally, in Bangladesh people are carrying their medical records around in bags. It makes it challenging when it comes to keeping the record of your medical history. When someone comes with bags of reports to us, we scan it and keep it as an electronic record and put it on our system. We believe this should make the lives of our patients easier, make treatment more efficient, and encourage better practice in the entire healthcare system.
How big is your team now?
There are at present 160 people working at Praava. We have approximately a dozen family health professionals as well as several visiting specialists.
As your description says Praava is a network of family health centers where patients come first which means you are essentially going to build more health centers. You have just launched your first center, do you have any timeline in mind for the expansion?
We plan to build more than 30 facilities around the country. Hopefully, by the end of 2019, we will build a couple of spokes.
And hopefully a couple of dozen of centers in five or eight years from now.
You have these different pieces in your model: you offer a subscription, people can also come and take your service anytime, you have an integrated information system and an app, you maintain records of your patients' health and also help them to see and use it from anywhere, anytime. How does your operational model work? And how all these pieces connect with your business model and how do you see this evolving in the future?
The network is basically based on a hub-and-spoke model. When we say we want to build several dozens of centers, we don't mean ones that are as big as this center. This center has a lab capable of running tens of thousands of tests a day.
We plan to build a few additional hubs approximately the same size as this one. But most of the additional family health centers will be spokes, with 5-6 rooms for doctors and you can draw blood which will be sent to the hub for analysis.
You mentioned you have thousands of people receiving your service. How have you attracted users and grown?
Interestingly, our primary traction is really the result of word-of-mouth. I think that's most powerful way of marketing for healthcare.
We are also fairly active on social media. And we have pursued a few other direct to consumer marketing strategies, which we are in fact ramping up in the near future.
However, I still believe that word of mouth is the best form of marketing for products like ours.
If you come to Praava and have an exceptional experience, you might tell your friends and family to come and experience it, and that endorsement will be more powerful than anything you might hear elsewhere.
What is your strategy going forward? Membership looks like a really promising opportunity to explore given that you are focusing on family doctors for which probably it makes sense to have a subscription than having a one-off option. Then and again, this is fairly new and we have to wait to see the response. What's the priority going forward? Do you want to keep concentrating on your membership plans?
The opportunity in healthcare is tremendous. From a business perspective, we expect that the traditional model will do very well. But membership is one of the bets we are making.
We would like to see our membership plans grow tremendously in the coming months and years, including possibly through partnerships with local insurance companies to cover outpatient care for their existing subscribers.
How are doing in terms of business, if you would like to give us some numbers, and investment?
We have closed another round of investment just last month. It has been led by one of our existing investors. We will probably do another round in a year's time or so, at which point we would be ready to start scaling.
Every month, we are getting closer and closer to bridging the gap between our expenses and revenues. We expect to break-even in a couple of years' time.
In terms of growth, what are the challenges you see?
I think popularizing a new brand in a new market is a huge challenge, especially with healthcare, because trust is such an important component. I think that's the most critical challenge for us, reaching out to people and building trust in the market. We are struggling with it.
We have patients who come to us and say that you guys provide wonderful service why don't more people know about you. In fact, we are telling people, but we need to figure out newer and more effective ways to attract new customers.
Besides word-of-mouth and social media marketing, what other things you're doing in terms of marketing, communications, and sales?
Praava also has a traditional sales model, with a sales team that goes to clinics and private physicians' chambers to ask doctors to send us their patients for diagnostic testing.
So, we follow a direct consumer marketing strategy for marketing; and for sales, we follow a B2B approach where we are partnering with clinics and other stakeholders and working directly with physicians.
What are some of the lessons you've learned in terms of building a healthcare company in Bangladesh? We see these big internet companies like Google and Facebook, but it is hard to find as big health-tech companies. One of the reasons probably is because the market is hard to crack. Health is a difficult market and in Bangladesh, it is even more so.
First off, let me clarify one thing. I don't consider ourselves a health-tech company. We are a service-delivery company. We are providing medical services to patients. We are building a better patient experience enabled by technology. It is sort of "brick-and-click," not purely a tech service nor a purely brick-and-mortar business. It is a brick-and-mortar service delivery enabled by technology.
I don't think that technology will ever replace the family doctor. It can only help doctors to do what they do best, which is sitting with the patients, listening to them, and understanding the whole picture of what going on. In the long run, technology will help in diagnosis and improve access to specialty care and there are other advances we are seeing in robotic surgery and other areas. But the service delivery side will always be the core aspect of going to the doctor.
There is a saying: culture eats strategy for breakfast. I strongly subscribe to that notion. Culture is very important in any new company. We spend a lot of time on it at Praava, building the right culture. Everyone in this organization has a different role to play in a patient's journey. I personally conduct hospitality training for everybody who comes to work at Praava.
Since you're talking about culture, can you give us an insight into how people work and collaborate with each other at Praava? How do you operate as an organization from a cultural point of view?
We don't have a strictly hierarchical employee-manager relationship in our organization. Praava aspires to be a relatively flat organization, which is a challenge in Bangladesh, where companies are often extremely hierarchical. There are many sides to that challenge.
I think that's part of what we are trying to build – everyone has to take ownership and has a role to play in building the best healthcare company in Bangladesh. As the CEO, I don't want everyone to always think of me as the boss. I want them to own the company and their work.
We have a lot of inter-departmental teams so that we bring multiple perspectives on various problems and challenges. We attempt to engage every level of the organization to face and solve our problems. The entire team sits in a team-meeting once every week where we discuss work-related and other issues and do different things.
We also try to promote a culture of learning. Every one of us knows something that others don't which means that we can all learn from each other. For instance, last week our COO taught us deep breathing meditation Pranayama. He does regular meditation and he conducted a session on that. The other week one of our physiotherapists conducted a session on how to sit in front of a computer which is good for your back. Our dentist taught us how to brush our teeth.
We are very lucky to have a wonderful group of people here. Our employees often take personal initiative for the company. Just the other month, during Ramadan, one of our employees set up a medical camp at Uttara (Dhaka) completely on his own and was able to serve more than two hundred new patients.
How do you think about life?
For me, life is about creating meaning and impact and connection.
There are two quotes that I really hold dear: stay close to anything that makes you feel alive (Hafiz) and when you're born, you cry and the world rejoices, live your life in a manner that when you die, the world cries and you rejoice. Both of these quotes have inspired me for a long time and led me to the work that I do today.
I have been blessed with so many gifts in my life. I hope I can do something good with them.
Building a company from scratch is extremely challenging. Some people say it is like eating glasses. It comes with a lot of challenges and many entrepreneurs go through short-term bipolar mood changes. As an entrepreneur, how do you deal with the challenges and stress that comes from being a founder?
Entrepreneurship is a roller-coaster ride. You can experience euphoric successes and disappointing failures, several times in a day, or even an hour! Sometimes the hardest thing to do is to wake up the next day and keep going. You just keep going. That's all you can do.
Because I believe in this service that we are trying to bring to Bangladesh. I don't think my belief in this has ever wavered, although I do go through the highs and lows of entrepreneurship. I would not say that I never felt hopeless, I did probably a few times, but giving up never came to mind as an option.
I deal with stress by staying connected to the people who I care about the most, and by trying to exercise regularly. It's also important to have enough sleep. Although I wouldn't say I'm a very good example of doing that. I trying to be more committed to having better sleep.
Thank you so much for being generous with your time.
Thanks for coming to Praava.